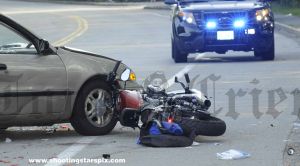 A four-car collision at the intersection of Route 62 and Interstate 93 reportedly sent two to the hospital.
The crash, which happened on Friday at 5:32 p.m., occurred when a vehicle exiting the highway collided with one traveling along Route 62. That accident sent one of the vehicles into oncoming traffic, which caused another collision. Immediately behind this final vehicle was a motorcyclist. He ended up hitting the others.
The operator of the motorcycle, Ronald Gray, 41, was taken via med-flight to Massachusetts General Hospital. His injuries are reportedly non-life threatening, but severe.
Another party, also with non-life threatening injuries, was transported by ambulance to Winchester Hospital.
Tewksbury and North Reading Police assisted with traffic control.
According to Lt. Dan Murray of the Wilmington Police Department, the crash is being investigated by the Accident Reconstruction Unit of the Massachusetts State Police.
Source:  homenewshere.com